THE BEST DAILY INSPIRATIONS ONLY
Interview with Nikolay Kvartnikov
(Art-director of Fiero Animals)Interview with Nikolay Kvartnikov
(Art-director of Fiero Animals)Interview with Nikolay Kvartnikov
(Art-director of Fiero Animals)Interview with Nikolay Kvartnikov
(Art-director of Fiero Animals)
Posted on
19th August '13
{{languageTitle}}
Russian English Spanish Portuguese
Арт-директор студии Fiero Animals, Николай Квартников в эксклюзивном интервью для Designlenta.com рассказывает о своем становлении в коммерческой иллюстрации, устройстве и составе сегодняшних Fiero Animals, об уровне иллюстрации и дизайна в России, а также о приемуществах работы садовником и многом другом. Надеемся вы получите удовольствие от прочитанного материала.
In his exclusive interview to Designlenta.com, the art director of the Fiero Animals Studio Nikolay Kvartnikov shares his career development in the commercial illustration, tells about members of his studio and how it's organized; explains his ideas on the design and illustration level in Russia, on gardeners and lots of other things. Read and enjoy it.
En Designlenta.com ofrecemos la entrevista exclusiva del director artístico del Fiero Animals studio. Nikolay Kvartnikov cuenta de su carera en ilustración comercial, de miembros de su studio y su trabajo, comenta el nivel de ilustración y diseño en Rusia, habla de jardineros y muchas otras cosas. Lean con gusto.
O diretor de arte do estúdio Fiero Animals Nikolay Kvartnikov conta numa entrevista exclusiva para o Designlenta.com sobre a sua carreira na ilustração comercial, o modo de trabalho e a organização atual do Fiero Animals, o nível de ilustração e design na Rússia, bem como sobre as vantagens de trabalhar como jardineiro e muito mais. Esperamos que leia com muito agrado.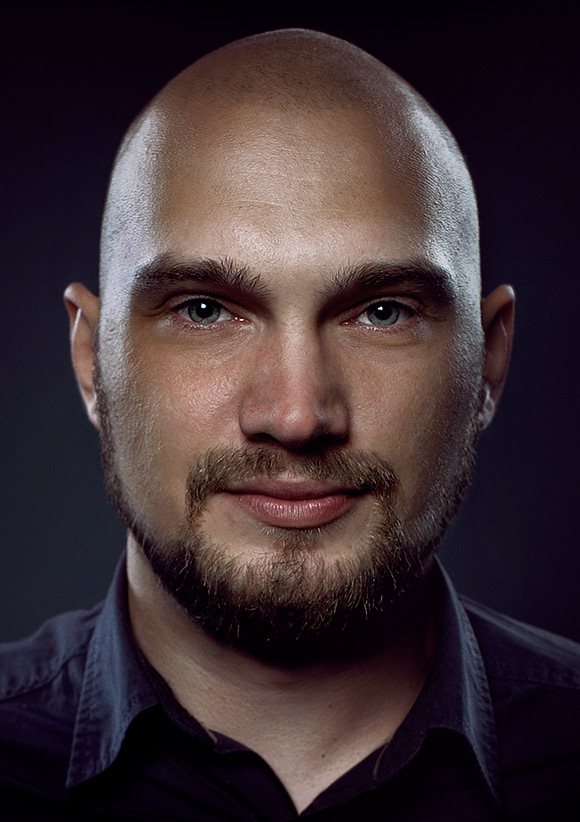 Nikolay Kvartnikov, 29 years illustrator from Moscow (Russia). Now he is an art-director in Fiero Animals.
attention! please check up that you were reserved popcorn or beer and enjoy it!
C чего началась ваша карьера техдизайнера (далее дизайнера)? Когда вы впервые заинтересовались дизайном и рекламными принтами в целом?

Меня всегда интересовала именно иллюстрация, всегда любил рисовать – рисовал я очень много и ужасно плохо, но это меня абсолютно не смущало. Затем были эксперименты с фотошопом и 3д, а когда увидел рекламные принты западных студий – это все определило, что вот оно! Этим мне хочется заниматься.

Все началось очень резво и в каком-то плане неожиданно. Я очень много и увлеченно работал с ретушью, пробовал совмещать снимки, моделить в 3d, придумывая разные веселые сюжеты и выкладывал в сеть. Техника была слабой на тот момент, но это направление неожиданно оказалось очень востребованным.

И в какой-то прекрасный момент пришло сразу несколько заказов – музыкальной группы, журнала и нескольких рекламных агентств.

И все это происходило в очень короткий срок, все труды оказались не напрасны. Вот я был человеком, который много и увлеченно делает картинки ради веселья и вдруг оказывается, что это интересно многим другим людям и они готовы за это платить. Все это произошло 7 лет назад в 2006 году.

А в 2008 появилась студия Fiero Animals. Были западные студии постродакшена, специализирующиеся только на принтах, а в России такой студии не было, по крайней мере проработав 2 с половиной года, как иллюстратор-фрилансер, я увидел продакшен-компании, которые нанимают разных специалистов под проект, были команды для поста видеороликов, но с принтами все было как-то разрозненно.

2. Какая миссия у команды «Fiero Animals» (далее FA)? Какой философии вы придерживаетесь в своем деле?

Для нас очень важен результат и рост качества наших работ, но при этом оставаться в реалиях нашего рынка с его непростыми сроками и темпом работы.

Со временем требования к визуализации растет, сейчас все смотрят шикарные фильмы, принты топовых западных студий постпродакшена. Зритель искушен, но количество специалистов, кто может реализовать сложные проекты, сильно не хватает.

Очень простой пример с нашей студией – мы запустили сайт 5 лет назад и так он провисел все эти 5 лет без обновлений. Никаких бихэнсоф, фейсбуков, каких-то попыток себя пропиарить. И что вы думаете было? Это были 5 лет огромного количества работы, очень интересных проектов и число их растет с каждым годом. Новый сайт был готов год назад, но тогда мы его просто решили не запускать.

За все это время сложилась своеобразная философия работы – мы никогда не хотели становиться «продакшеном – посредником», т.е. набрать проектов и потом искать под него специалистов на стороне. Все в основном делается внутри команды с проверенными временем людьми. Это накладывает определенные ограничения на количество проектов, но позволяет не скатиться в треш, даже при сильном загрузе.

Расскажите о своих ребятах, сколько человек участвует в продакшене? Работаете ли удаленно, или где-то базируетесь? Назовите имена ключевых людей в команде.

Города: Москва, Санкт Петербург (офис), Львов и Одесса. За все эти годы мы построили отличную систему работы на расстоянии и к ней добавили офис. Это сочетание хорошо работает. Fiero Animals – это 7 человек.

Евгений Сидельников – мой партнер, арт-директор студии, внес огромный вклад в развитие FA.

Иван Смирнов –ретушер

Сергей Клесов - Зд моделлер-визуализатор, ретушер

Алексей Сорока – мейт-пейнтер и визуализатор

Сергей Перескоков – ретушер, мейт-пейнтер, визуализатор

Дмитрий Тен - Зд моделлер-визуализатор, ретушер

Я работаю арт-директором

Такие разделения по специальностям очень условны - например, у нас ретушер не тот, кто замазывает прыщи, а аналог creative retoucher – т.е. человек, который работает со стоками, делает сложные совмещения этих снимков.

Насколько вы щепетильны в вопросе выбора проектов? Каков % запросов в месяц вы в среднем отсеиваете с формулировкой «не интересно» (т.е. причина отказа не связана с финансовой составляющей или маленькими сроками)?

"Не интересно" - не очень понятная формулировка отказа от проекта, нам интересны даже простые по идее рекламные проекты, но с нестандартными или хорошими креативными решениями или с нашими идеями по воплощению их. В данный момент % отказа с такой формулировкой незначителен, скорее отказы, как раз, связанные со сроками, финансами и обращением не по профилю деятельности студии.

Кто или что больше всего повлияли на ваше творчество?

Повлияли работы западных студий ретуши, листание шорт-листов крупных рекламных фестивалей за несколько лет – это долгое, но впечатляющее занятие. Очень многие современные художники, которых я смотрел на различных сайтах о CG. Всегда любил смотреть кино.

Приносят ли рекламные принты достаточный доход? Вас устраивает развитие этого рынка, его текущее состояние?

Наша работа - это большой и каждодневный, многочасовой труд, с дедлайнами и т.п., раньше это было в ущерб праздникам и семье, но приличный доход -это заслуженное тому вознаграждение, если много работать.

Рынок труда в рекламе становится все качественнее. Все еще часто попадаются размытые брифы или очень сжатые сроки, но в целом, состояние рынка устраивает.

Есть ли границы дозволенного в вашем творчестве, внутренняя самоцензура?

Какой-то границы нет, не приходилось терзаться из-за сделанного и, если говорить о рекламных принтах, то перед нами такой вопрос никогда не стоял, т.к. все обычно в пределах разумного.

Но если говорить о своей цензуре в плане качества работы, то иногда нам приходится наступить на горло "своей песне" в какой-то момент, оставив за собой право не размещать в своем портфеле данную работу.

Какая из ваших работ вам нравится больше всего и почему?

Мне нравятся очень многие работы, над которыми работали. Мы сделали много отличных проектов, которые еще не публикуем. Выбрать одну сложно… ну вот Хрустим, например. Мы делали ее давно, но это позитивная работа.

Как вы оцениваете уровень дизайна в целом в вашей стране?

Сейчас в России уровень вполне хороший, если сравнивать с тем что было 5 лет назад. Появилось много крепких специалистов в разных областях, портфолио наших фотографов, дизайнеров, иллюстраторов, студий и агентств стало намного интереснее смотреть. Правда, если видишь что-то выдающееся, то в 90% случаев в кридитсах увидишь зарубежного специалиста или продакшен. Но уверен, что ситуация меняется и мы видим все больше прекрасных проектов сделанных в нашей стране.

Профессиональное и личное достижение, которым вы больше всего гордитесь?

Студия FA, наша команда и отличные проекты, над которыми мы работаем. Личное – это наши чудесные семьи, которые терпят наше иногда «маньячное» отношение к работе и поддерживают нас.

Если бы не рекламные принты, то чем бы вы стали заниматься в жизни?

Мы бы стали садовниками. Работа с прекрасным и на свежем воздухе– это отлично. Но в любом случае, работа была бы какая-то творческая.

Можете вкратце рассказать, как проходит ваш типичный рабочий день?

Кофе + почта, далее мы все обсуждаем, что у нас сейчас по проектам, сверяемся с таймингами, смотрим у кого сегодня какой показ и что нужно еще доделать, чтобы отправить проект. Далее каждый самостоятельно работает над своим проектом или какой-то частью, смотрим, обсуждаем. В 7 вечера рабочий день заканчивается и далее уже у кого какие планы. Проводим время с женами, детьми, смотрим фильмы. Иногда, позже вечером мы связываемся с Женей, чтобы вкратце обсудить работу на следующий день.

Как относитесь к алкоголю и прочим стимуляторам в творчестве и вне творчества?

Отрицательно. Работать так, наверное, очень тяжело и медленно.

Как предпочитаете отдыхать от любимой работы?

Кино, сходить куда-нибудь в хорошей компании, путешествия – в общем, нужно уметь переключиться и получить новые впечатления. Кстати, Сергей Перескоков играет в музыкальной группе на ударных.

Любимые 3 вещи (материальные), без которых вам будет тяжело протянуть и день?

Компьютер, телефон, обед :)

Pepsi или Coca Cola?

И то и это – по настроению.

У вас есть предпочтения в одежде? Любимая вещь в гардеробе?

Футболка Fiero Animals – это просто шедевр. А так любая удобная одежда.

С каким клиентом вы бы хотели поработать? (бренд)

У нас большой список брендов для которых мы работали. Наверное, хотели бы поработать со всеми из топ-100 самых дорогих торговых марок. Вот лично для меня было бы здорово поработать с Disney.

Кем и где вы себя видите через 5 лет?

Скорее всего, буду заниматься тем же – работать над принтами в качестве иллюстратора и арт-директора студии Fiero Animals. Убежден, что не стоит распыляться. На мой взгляд, сейчас часто случается, что хороший фотограф, вместо того, чтобы стать лучшим, становится продакшеном. Прекрасный дизайнер решает стать арт-директором, а лучше сразу креативным, арт-директора или продюсера несет в режиссеры. В общем на волне развивающейся индустрии люди просто хватают вершки, становясь кем-то там, кого считают выше по статусу или свободнее, вместо того, чтобы стать лучшими в своем деле. Хотя, возможно, что это тоже правильно. Люди стараются занять какие-то ниши, а их все еще довольно много на нашем развивающемся рынке.

Насколько средняя школа / университет были для вас полезны? Как вы относитесь к классическому образованию?

Очень хорошо отношусь, т.к. это отличное время. Но только к 4-му курсу определился, чем действительно хочется заниматься. В лингвистике (мой факультет) я не преуспел, но опыт работы с большим количеством разной информации сильно пригодился. А дальше самообразование и различные курсы. Образование очень важно, но самое главное, чтобы предмет был вам интересен.

Если бы вам предложили сменить профессию, кем бы вы хотели стать?

Сложно сказать - фотографом, наверное.

Назовите свои недостатки, если таковые имеются.

Думаю, что их масса. Очень сложно выделить какой-то конкретный.

Если бы Голливуд решил снимать фильм о вашей жизни, кого бы вы выбрали на главную роль и какой жанр был бы у фильма?

Кто бы сыграл – сложно ответить, но фильм бы получился веселым и приключенческим.

Если бы у вас было три месяца свободного времени и никаких финансовых ограничений, чем бы вы занимались?

Скорее всего, это был бы какой-нибудь большой проект связанный со студией и командой. Например, путешествие по странам с посещением различных студий и агентств. Это отличный опыт, который можно совместить с хорошим отдыхом и новыми впечатлениями.

К вам часто приходят на собеседование? Легко ли отказываете людям, если видите, что человек вам не подходит, стараетесь ли сгладить углы?

Портфолио приходят очень часто, но до собеседования дело доходит очень редко. Важен уровень работ и понимание процесса, как делается работа от начала и до конца. Мы пробовали систему с обучением, но это работает очень криво, нужно постоянно смотреть, что и как делается, а в условиях плотной работы это накладно.

Устраивали ли вы когда-нибудь рабочие марафоны? Сколько часов подряд вы проводили у монитора за работой?

Еще год-два назад было довольно много бессонных ночей, полгода-год назад они встречались, но редко. Сейчас у нас система работы построена так, что это все исключено. Мы очень большое внимание уделяем планированию и составлению тайминга, чтобы показы не выпадали на выходные и на понедельник. Если очень нужно показывать в понедельник, то это не утро, чтобы можно было сесть и доделать работу в течении дня.

Посмотрите плейлист вашего Ipod/iPhone, какая композиция там сейчас на паузе? Поделитесь вашим последним музыкальным открытием.

Всегда слушаю радио, играет фоном

Что, если вам придется работать под руководством человека, который знает меньше вас?

Руководителю не обязательно знать больше, но он должен видеть направление и создавать комфортные условия для работы.

Верите ли вы в «талант»? Cформулируйте, что означает «талант» в вашем понимании?

Талант – это очень сильный интерес к своему делу, когда вы можете несколько лет заниматься одним и тем же и вам это будет все больше и больше нравится.

Читаете ли вы книги? Какую последнюю книгу вы прочли?

Хемингуэй «Старик и море» - под большим впечатлением.

Дело в том, что в институте нужно было много читать зарубежной классики, но какая может быть зарубежная классика в 20 лет? В лучшем случае книги читались по диагонали, либо просто краткое содержание – лишь бы сдать. А теперь мне очень интересно и я даже рад, что тогда все это пропустил. Сейчас у меня огромный выбор для чтения.

Представьте, что вы можете поменять одно качество во всех людях на планете Земля. Что бы вы изменили в нас?

Нужно менять сразу много качеств или оставить все как есть.

Часто ли критикуют вашу работу и творчество в целом? Ваше отношение к критике?

Не часто, особенно учитывая тот факт, что 3 года мы свои работы нигде не выставляли. Сейчас в целом положительные отзывы. К критике отношусь очень спокойно. Не верю, что она может кого-то подстегнуть или чем-то помочь. А совет от специалиста в твоей сфере, работы которого ты знаешь – это всегда интересно.

Комментарий или отзыв в сторону вашей работы, который запомнился вам больше всего? Чей это был отзыв?

Хорошие отзывы всегда приятны, плохие иногда бывают полезны, но не могу выделить что-то конкретное.

Расскажите, что произошло значимого для вас в вашей стране за последние 10-15 лет?

Сложный вопрос, т.к. в стране постоянно происходит что-то важное.

Если бы выпал шанс стать супергероем, кем бы вы стали?

Iron man

Насколько ваша жизнь состоит из случайностей? Или у вас все под контролем?

Все под контролем, но всего учесть никогда нельзя. Все, что планируется всегда идет или медленней или неожиданно быстрее.

Ваши любимые города/места на планете?

Очень нравятся новые места. Если еду в отпуск, то это всегда какая-то новая страна.

Пользуетесь ли вы социальными сетями? Как активно, насколько это полезная штука?

Да, у меня есть личные аккаунты в разных соц. сетях, но я практически их не веду. В фейсбуке у FA есть страница www.facebook.com/fieroanimals, пока она не часто обновлялась, но мы сейчас готовим довольно много материала.

В каком направлении планируете развиваться дальше, поделитесь планами?

Планов очень много, у нас огромное желание развиваться. Основное направление останется прежним - постпродакшен рекламных принтов.

Ну и напоследок, ходит много споров, но все же, какой M&M's вкуснее: желтый, или красный?

Красный

Спасибо за ответы, и в завершение, скажите что-нибудь тем тысячам людей, что будут читать ваше интервью.

И вам спасибо. Хочу пожелать всем упорства в выбранном деле, но не забывайте отдыхать.
Предлагайте свои, интересующие вас вопросы, для следующих выпусков интервью на нашем ресурсе.

What did your technical designer career start with (just "designer" in other questions)? When was the first time you got interested in design and print advertising?

As far as I remember myself, I've been crazy on illustration as well as on drawing. I drew a lot with no concern the result was terrible. I got to experiments with Photoshop and 3D visualization. And then I saw those advertising prints of foreign design studios. Let me say, it was my turning point! That was the thing I wanted to do!

The start was quick and unexpected.

I was absorbed with retouch, made my best to combine photos, develop 3d models, invent some funny plots and share my attempts on the Internet. My technical skills left to be desired but the tendency itself proved to be in demand. Then a moment came when I got a bundle of orders simultaneously: a music band, a magazine and some ads agencies needed my skills.

The pace of events was frenetic but all the efforts paid off. A person inventing pictures just out of fun one day found out that his works were interesting for others ready to pay. It was 7 years ago in 2006.

And in 2008 the Fiero Animals Studio was founded.

Abroad there were postproduction studios that focused their attention on print designing, but in Russia this niche was unoccupied. To the moment I had 2,5 years of freelance illustrator experience. Production companies that hired masters on one-project basis and video posting companies were in abundance, but nothing was consolidated in the advertising prints business.

What's the Fiero Animals (FA) team mission? What's your philosophy?

We are concerned about the final result and do our best to improve our works' quality, but we never forget our market conditions: mad deadlines and work pace.

Today's sophisticated audience got used to gorgeous movies and prints of foreign postproduction top studios. So they wait and require more from visual design, but real masters, that are able to realize complex projects, are few and far between.

Just look at the example of our Studio. We launched our web site 5 years ago and it knew no refresh. Behance, Facebook, any PR – what are those? But all 5 years we were dying with work, we realized lots of interesting projects and no decline is expected. To tell the truth, we made the new web site version over a year ago but held it over.

In the course of the 5 years our own philosophy was built: we are not production go-betweens and never gather projects to hire third-party executives. We are a team proved with time. Yes, we are a bit limited with number of projects, but we never work into the trash no matter how busy we are.

Give some information about your team. How many are you? Work in office or remotely? Name your key workers.

We live in Moscow, St.Petersburg (office), Lvov and Odessa. We've formed a perfect system of remote work and added our St.Petersburg office a bit later. The Fiero Animals team consists of 7 people.

Evgeny Sidelnikov: my partner, art-director; his contribution to the Studio development is huge.

Ivan Smirnov: retoucher

Sergey Klesov: 3D modeler, retoucher

Alexey Soroka: matte painter and visualizer.

Dmitry Ten: 3D modeler and visualizer, retoucher

Me: art director.

But these areas of expertise interact: our retoucher doesn't mask pimples – he's creative retoucher, he works with photostocks, combines photographs and so on.

Are you scrupulous choosing projects? What percentage of projects is declined as "not interested in" (not because of budget or dead-line)?

What do you mean by "not interested in?" We are interested even in simple advertising projects with simple idea if they require non-standard creative approach or may be performed with our own ideas. So the percentage of projects that are declined as uninteresting is low enough. But we refuse if we are not happy with dead-line, budget or if projects don't correspond to our profile.

Who or what influenced your work?

Mainly foreign retouch studios and short lists influenced me: to look all works through takes long but gives a lot. Modern artists that represent their works on CG web sites. And movies.

Do you earn enough making advertising prints? Are you satisfied with the market development and situation

We work daily, work hard, spend hours and hours working meeting deadlines. Before it influenced negatively on out private living, we knew no weekends and holidays, but now we are paid well. So we make a decent livelihood. I should tell that the advertising world of work improves. Unclear briefs or tight deadlines happen, but in the whole everything is OK.

Are there any limits or borders in your creative work? Self-censorship?

No limits, no borders, no turmoil of guilt. If you work with advertising prints the things are very decent. But self-censorship, yes, it exists. There are thresholds we never compromise and works we never represent in our portfolio.

Which of your own works do you like the best and why?

I like many projects we've realized. We have lots of works that aren't published. How to choose one? Let it be this one. It's old enough but it's very positive.

What's the design level in your country?

The design level in Russia is high enough, if to compare with it 5 years ago. There are more professionals. The portfolios of our photographers, designers, illustrators, studios and agencies are more interesting to examine. But if I find an outstanding work I then look through the credits and see that there's a foreign trace in production. But the situation changes to the better and every new day gives us more and more excellent projects made in Russia.

What are your professional and personal achievements that you are really proud of?

FA Studio, our team and excellent projects. Personal? Our families, that are ready to stand maniac working and support us no matter what.

If not making prints, what could you do?

We could grow gardens. Gardeners work in the fresh air and create beauty – what could be better? Anyway, we would create something.

What's your typical working day like?

Coffee+e-mail. Discuss current projects, check in timing, shows and presentations, eliminate gaps to fulfill a project. Then we work separately: polish our tasks and discuss ideas. The working day is over at 7 p.m and we live our private living: wives, children, movies. Sometimes we get in contact with Evgeny to discuss what to do tomorrow.

What do you think about alcohol and other exciters in creative life and outside of it?

Take it negative. Think these things make work slow and difficult.

What's your favorite rest from your favorite work?

Watching movies, going out, making a journey: the main thing is to switch gears. Sergey Pereskokov is a percussion player in his music band.

Three things you can't live a day out?

Computer, telephone and meal :)

Pepsi or Coca-Cola?

Both. It depends on my mood.

Do you have any preferences in clothes? Your favorite outfit?

A Fiero Animals t-shirt is a masterpiece. But I wear everything if I feel comfortable.

What client (brand) would you like to work with?

Our brand list is already wide enough. But we'd add there any from the top-100 of the most expensive brands. Personally I would like to see Disney as my client.

What are you in 5 years?

Hope, I'm the same: make prints as art director and illustrator in Fiero Animals. I prefer to stay focused. It happens that a good photographer goes in production when he could become not just good but best photographer. A talented designer becomes art director or creative director when an art director or producer goes into direction. Why?

People squander their gifts on trifles, trying to get more-profile position and loose their chance to become the best in their business.

But who knows? There are enough unoccupied niches in our market and why not to try one of them?

School and university, were they useful? What do you think about traditional education?

Think positive, as it's the happiest period in your life. But it took me almost 4 years of higher education to realize what I really need. I studied linguistics with no success though it taught me work with great amount of information. Self-education and additional courses helped much.

Education means much but the main thing is to study things you are interested in.

If you could change your occupation what would you be?

Difficult question. Maybe, a photographer.

Do you have imperfections? Name them.

I think, I have lots of them. It's not easy to name one.

If some people from Hollywood decided to film your life-story, who would star it and what would be its genre?

Don't know who could star it, but the movie should be funny and full of adventures.

Had you 3 free months with no money limits, how would you spend your time?

Suppose, I would devote it to a great team or studio project. Maybe we would visit different countries with their studios and agencies to get useful experience, have rest and fresh impressions.

Do you hold job interview often? Is it easy for you to say "no," if the interviewed doesn't correspond? Do you try to round off rough corners?

We get lots of portfolios but interviews are seldom. We pay special attention on the candidate's level, his ability to comprehend all the process from the very beginning to the final. We tried to train people, but the results were not satisfactory: we work hard and have no time to support and control each step of our "students".

Do you know what is a workathon? How many successive hours did you spend at your computer?

A year or two ago there were many sleepless nights, half a year ago there they were but not many. We pay much attention to planning and timing, avoid weekend and Monday presentations. We never agree to present work on Monday morning to have time to finish details.

Look at your iPod/iPhone playlist: what's paused there at the moment? Share your music findings.

I listen to the radio. It's my favorite background.

What if your chief had less professional skills than you have?

I don't think that a chief must have more professional skills: his task is to develop strategies and organize comfort working

Do you believe that gift and faculty to a job exist? How do you understand them?

A gifted person is highly interested in what he/she is doing and feels more and more interested doing the same job for years.

Do you read books? What have you read recently?

Yes, I do. I read much. Usually there are two books: fiction and non-fiction, that correspond to my mood. The Deadline: A Novel About Project Management by Tom DeMarco is my recent achievement: a catching page-turner I should say.

The Old Man and the Sea by Ernest Hemingway impressed me greatly.

When in Institute, I had to read a lot of foreign classic literature: but what can one understand when he's 20? I just looked them through or read some summaries to please my teachers. But now I read with real pleasure and feel happy that I have lots and lots of books unread.

If you could change, transform one trait in everyone living on the Earth, what trait would you choose?

I'd leave it as it is: one trait is not enough.

Are you often criticized? How do you take critics?

I'm almost not cririsized. For 3 years we haven't represented our works, but now when we do the reaction is positive. I take critics with no panic and don't believe it can help or spur creativity. But I'm open to advice from professionals.

Share the most notorious comment or review. Who gave it?

Good reviews please you, bad ones may help, but I cannot single out the most one.

What things that are important for you have happened in your country for the last 10-15 years?

The question is no that easy. Lots of important things happen in my country.

What super hero would you like to be?

Iron Man

Is your life a chain of chances and accidents or do you control it?

I try to control, but no one can consider everything. The planned things happen two ways: sooner or later.

What are your favorite cities or places?

I like visiting new places. If I go into a journey I always choose a country I've never been.

What about social networks: do you think them useful?

I have accounts in some of them but have no time to fill them in.

FA has its Facebook account: www.facebook.com/fieroanimals

We prepare content and are going to refresh it.

Share your plans and ideas for future.

Lots of plans and huge desire to develop. We are not going to change the course: advertising prints postproduction is our business.

Solve our problem: what M&M's is better – red or yellow?

Red.

Thank you for your answers. Anything to say to those thousands of readers?

Thanks for your questions. Be persistent and do your best but mind your rest.
You can offer yours questions in comments for the next episodes of our interviews.

¿Сómo comenzó su carrera del diseñador técnico (en lo sucesivo diseñador)? ¿Cuándo se interesó en diseño y impresiones publicitarias en general?

Siempre me interesaba en el arte, siempre me gustaba dibujar – dibujaba mucho y terriblemente mal, pero eso no me molestaba. Luego experimentaba con Photoshop y 3D, y cuando vi impresiones publicitarias de estudios occidentales, decidí que me daría ganas de hacerlo.

Todo comenzó muy rápidamente y de forma inesperada. Trabajaba mucho con retoque, trataba de combinar imagines, hacer modelos 3d inventando diferentes historias divertidas y ponerlas en la red. Técnica era débil en aquel entonces, pero esta tendencia pronto resultó ser muy popular.

Y llegó el momento cuando recibía varios encargos al mismo tiempo – de un grupo musical, una revista y varias agencias de publicidad.

Y todo eso ocurrió en muy poco tiempo, todos los esfuerzos no fueron en vano. Antes había hecho imágenes solamente para divertirme, y luego descubrí que muchas otras personas estaban interesadas en mi trabajo y que estaban dispuestas a pagar por el. Todo esto sucedió hace 7 años – en el año 2006.

En 2008 apareció el estudio Fiero Animals. En el oeste había estudios especializados solamente en impresiones, pero en Rusia no había tales estudios. Después de trabajar de ilustrador freelance por dos años y medio, vi empresas productoras que empleaban a diferentes especialistas para un proyecto específico, había equipos para colgar vídeos, pero por lo que toca a impresiones todo era de alguna manera fragmentaria.

¿Cuál es la misión del equipo "Fiero Animals" (FA)? ¿Qué filosofía practican en su trabajo?

Para nosotros el resultado y el crecimiento de la calidad de nuestras obras son muy importantes, también es necesario permanecer en las realidades del mercado con sus plazos limitados y el ritmo de trabajo.

Los requisitos que se aplican a la visualización van creciendo con el tiempo. Ahora todos ven películas de alta calidad, impresiones de los mejores estudios postproductoras occidentales.

El espectador es sotisficado, pero faltan profesionales que pueden implementar proyectos complejos.

Un ejemplo muy simple con nuestro estudio: lanzamos el sitio web hace 5 años y así ha permanecido durante estos 5 años sin actualizaciones. No necesitamos behance, facebook, cualquier intento de promovernos. Durante ese período hemos realizado enormes cantidades de proyectos muy interesantes y su número está creciendo cada año.

Nuestro sitio web nuevo fue preparado hace un año, pero entonces decidimos no lanzarlo.

En todo este tiempo hemos desarrollado una filosofía de trabajo: nunca hemos querido ser intermediarios, es decir, tomar proyectos y luego buscar algunos especialistas en otros equipos. Tenemos propios especialistas probados por el tiempo que hacen básicamente todo el trabajo. Esto pone algunas limitaciones en el número de proyectos, pero permite garantizar la calidad, incluso cuando hay mucho trabajo.

Cuentenos, por favor, de sus chicos. ¿Cuántas personas participan en la producción? ¿Trabajan a distancia, o se ubican en algún lugar concreto? ¿Puede usted nombrar las personas claves en su equipo?

Las ciudades: Moscú, San Petersburgo (oficina), Lvov y Odessa. Durante todos estos años hemos construido un excelente sistema de trabajo a distancia y también hemos añadido una oficina. Esta combinación funciona bien. Fiero Animals consiste en 7 personas.

Eugeny Sidelnikov, mi socio, es director artístico del estudio, él ha contribuido mucho al desarollo del FA.

Ivan Smirnov es retocador

Sergei Klesov es modelador y visualizador 3D

Alexei Soroka es especialista en matte painting y visualizador

Sergei Pereskokov es retocador, especialista en matte painting y visualizador

Dmitry Ten es modelador y visualizador 3D, retocador

Yo soy director artístico.

Dicha separación en muy convencional – por ejemplo, nuestro retocador no es el que oscurece el acné, es homólogo a retocador creativo, es decir, una persona que hace una combinación compleja de imágenes.

¿Es su equipo escrupuloso en la selección de proyectos? ¿Qué porcentaje de los proyectos declinan porque no son interesantes (es decir, no por el componente financiero o corto plazo)?

No comprendo que significa "no interesante". Nos interesan los proyectos publicitarios açun más simples, pero con soluciones creativas. En el momento al contrario declinamos algunos proyectos debido a componente financiero o corto plazo o cuando el proyecto no es en el perfil del estudio.

¿Quién o qué le ha influido más en su trabajo?

Me han influido los trabajos de estudios occidentales de retoque. También he examinado listas cortas de festivales de publicidad más importantes. Esta actividad exige mucho tiempo, pero es muy impresionante. También me han influido muchos artistas contemporáneos cuyas obras he visto en varios sitios web de CG . Siempre me ha gustado ver películas.

¿Ganan bien sus impresiones publicitarias? ¿Está satisfecho con el desarrollo de este mercado, su estado actual?

Nuestro trabajo es grande y casual, con muchas horas de trabajo, fechas lìmites, etc., antes era a costa de las fiestas y la familia, pero ingresos decentes son una recompensa merecida si trabajas mucho.

El mercado de trabajo en publicidad está mejorándose. Todavía tenemos que trabajar a menudo en plazos muy apretados y con instrucciones no bastante claras, pero en general, estoy satisfecho con el estado actual del mercado.

¿Hay cualquier límite en su creatividad, autocensura interior?

No hay algún límite, nunca he sentido remordimiento por el hecho y en el caso de impresiones publicitarias nunca hemos encontrado con este problema, pues todo típicamente está dentro de limites razonables.

Pero si hablamos de autocensura en términos de calidad de trabajo, a veces tenemos que aceptar un compromiso, reservándonos el derecho de no publicar esta obra en nuestra cartera.

¿Cuál de sus obras le gusta más y por qué?

Me gusta un montón de obras que hemos realizado. Hemos hecho un montón de diferentes proyectos que todavía no hemos publicado. Es difícil seleccionar solamente una obra. Vale, por ejemplo este. La hicimos hace tiempo, pero es una obra positiva.

¿Cómo puede caracterizar el nivel de diseño en su país en general?

Ahora el nivel en Rusia es muy bueno comparando con lo que era hace 5 años. Hay un montón de verdaderos profesionales en diferentes campos. Ahora es mucho más interesante ver la cartera de nuestros fotógrafos, diseñadores, ilustradores, estudios y agencias. La verdad es que si usted ve algo notable, en el 90% de casos en los créditos verá la producción o el especialista extranjero. Pero estoy seguro de que la situación está cambiando y ahora vemos más proyectos maravillosos en nuestro país.

¿De qué logro profesional y personal está usted más orgulloso?

Del estudio FA, nuestro equipo y los grandes proyectos en los que estamos trabajando. Y en la esfera personal – de nuestras familias maravillosas que sufren de nuestra actitud anormal hacia el trabajo y nos apoyan.

¿Si no hicieran las impresiones publicitarias, qué harían en la vida?

Fuéramos jardineros. Es grande trabajar con cosas maravillosas y al aire fresco. Pero en cualquier caso, haríamos algún trabajo creativo.

¿Puede describir en breve su típico día de trabajo?

Café + correo, luego discutimos proyectos que tenemos por el momento, cotejamos los plazos de trabajo, miramos quien debe hacer una demostración hoy y que tenemos que hacer para enviar el proyecto. A continuación, cada uno trabaja en su propio proyecto o cualquier parte del proyecto, vemos, discutimos.

A las 7 de la tarde termina el día de trabajo y luego cada tiene su propio plan.

Pasamos tiempo con nuestras esposas, hijos, vemos películas. A veces, por la noche nos conectamos con Eugeny para discutir brevemente el trabajo del día siguiente.

¿Cuál es su actitud hacia el alcohol y otros estimulantes en la creatividad y en la vida en general?

Mi actitud es negativa. Me parece que es muy difícil trabajar de tal modo.

¿Cómo prefieren ustedes descansar de su trabajo favorito?

Ir al cine o algún lugar en buena compañía, viajar. En general, hay que cambiar actividades y obtener nuevas experiencias. A propósito, Sergei Pereskokov toca los tambores en un grupo musical.

¿Tres cosas favoritas (materiales) sin las cuales sería difícil vivir un solo día?

Computadora, teléfono, y almuerzo :)

¿Pepsi o Coca Cola?

Ambos – por el estado de ánimo.

¿Tiene usted una preferencia en la ropa? ¿Su cosa favorita en el armario?

La camiseta Fiero Animals es simplemente una obra maestra.

Y en general cualquier ropa cómoda.

¿Con qué cliente gustaría trabajar? (marca)

Tenemos una enorme lista de marcas para las que trabajamos. Querríamos trabajar con todo el top 100 de las marcas más caras. Personalmente para mí, sería maravilloso trabajar con Disney.

¿Dónde se ve usted dentro de 5 años?

Probablemente en el mismo lugar trabajando con impresiones como ilustrador y director artístico del estudio Fiero Animals. Estoy seguro de que no hay que desperdiciarse. En mi opinión, ahora sucede a menudo que un buen fotógrafo, en lugar de ser el mejor en su esfera, se concentra en la producción. Un diseñador maravilloso decide convertirse en un director artístico o mejor aún en un director creativo, un director artístico o jefe de realización quiere convertirse en un director de cine.

En general, en condiciones de una industria en desarrollo unas personas sólo tratan de convertirse en alguien que tiene una posición más alta, o más libre, en su opinion, en lugar de ser el mejor en su propio negocio. Quizás deba ser así. Las personas tratan de tomar algún tipo de nicho, y en nuestro mercado en desarrollo hay muchos nichos.

¿Le beneficiaron la escuela secundaria /universidad? ¿Qué opinión tiene sobre educación clásica?

Tengo buena opinión, porque es un buen tiempo en la vida. Pero sólo en el cuarto año de mis estudios en la universidad me determiné con mi ocupación futura. No he logrado éxito en lingüística (mi facultad), pero la experiencia de trabajo con un montón de información ha sido muy útil. Y luego – autoeducación y diversos cursos. La educación es muy importante, pero lo más importante es que el tema le interese.

Si tuviera que cambiar la profesión, ¿qué le gustaría ser?

Es difícil de elegir. Un fotógrafo, supongo.

¿Cuáles son sus faltas, si hay algunas?

Creo que hay muchas. Es difícil destacar una en particular.

Si Hollywood decidió hacer una película sobre su vida, ¿a quién elegiría usted para el papel principal, y de qué género sería la película?

Es difícil de responder quién haría el papel, pero la película sería muy divertida y con muchas aventuras.

Si usted tuviera tres meses de tiempo libre sin restricciones financieras, ¿qué haría?

Lo más probable, sería un gran proyecto relacionado con el estudio y el equipo. Por ejemplo, un viaje a difirentes países con visitas a varios estudios y agencias. Es una experiencia grande que se puede combinar con un buen descanso y nuevas impresiones.

¿Vienen muchas personas a su estudio para obteber trabajo? ¿Es fácil rechazar a un candidato si usted ve que una persona no le conviene, trata de suavizar las asperezas?

Muy a menudo envian carteras con ejevmlos de trabajos, pero muy rara vez vienen a entrevistas para obteber trabajo. Lo que importa es el nivel de trabajo, la comprensión del proceso del trabajo desde el principio hasta el final. Probamos el sistema de la educación, pero no funciona bien. Es necesario vigilar constantemente qué y cómo se hacen las cosas, y cuando hay mucho trabajo, es bastante caro.

¿Ha organizado usted alguna vez maratones de trabajo? ¿Cuántas horas sin cesar ha pasado frente a una pantalla de la computadora?

Hace un año o dos atrás había un montón de noches sin dormir, hace seis meses o un año también había, pero rara vez. Ahora el sistema de trabajo se construye de tal manera que todo esto es imposible. Prestamos gran atención a la planificación y el calendario para que demostraciones no caigan en fin de semana y lunes. Si es realmente necesario hacer una demostración el lunes, la hacemos no por la mañana para tener tiempo y terminar el trabajo durante el día.

Vea usted una lista de reproducción de su iPod / iPhone, ¿qué composición es ahora en pausa? Comparta su último descubrimiento musical.

Siempre escucho la radio, suena en segundo plano.

¿Qué pasa si usted tiene que trabajar bajo la dirección de alguien que sabe menos que usted?

El jefe no debe saber más, pero tiene que ver la dirección y crear un agradable ambiente de trabajo.

¿Cree usted en talento? ¿Qué significa talento en su comprensión?

Talento es un interés muy fuerte en su trabajo, cuando usted puede hacer la misma cosa durante algunos años y le gusta más cada año.

¿Lee usted libros? ¿Cuál fue el último libro que leyó?

Leo mucho y de ordinario paralelamente dos libros - ficción y algo especializado, elijo por el estado de ánimo. De los últimos he leído "Deadline. Una novela sobre la administración de proyectos" de Tom DeMarco. Un libro exelente, divertido y fácil de leer. "El Viejo y el Mar" de Ernest Hemingway me ha impresionado mucho.

Es que en la Universidad tuve que leer un montón de clásicos extranjeros, pero un joven de 20 años de edad no puede apreciar clásicos extranjeros. Por eso leía muchos libros diagonalmente, o simplemente un resumen – sólo para pasar un examen. Y ahora tengo curiosidad y me alegro de que no los leera entonces. Ahora tengo una selección grande.

Imagínese que usted puede cambiar una cualidad de todos los seres humanos en el planeta Tierra. ¿Qué cambiaría usted?

Tenemos que cambiar un montón de cualidades de una vez o dejarlo todo como está.

¿Con qué frecuencia critican su trabajo y su creatividad en general? Su actitud hacia la crítica?

No muy a menudo, especialmente si se tiene en cuenta que durante los tres años primeros no disponíamos nuestras obras. Ahora recibimos opiniones generalmente positivas. Recibo toda la crítica muy tranquilamente. No creo que pueda impulsar a alguien o ayudar. Pero aprecio mucho un consejo de los expertos en mi campo, es siempre interesante.

¿El comentario o la opinión de su trabajo más memorable? ¿De quién era esta opinión?

Buenas opiniones son siempre agradables, crítica también a veces es útil, pero no puedo destacar algo en particular.

Cuéntenos de los acontecimientos mas significativos para usted en su país durante los últimos 10 a 15 años?

Es una pregunta difícil, porque en nuestro país siempre pasa algo importante.

Si tuviera la oportunidad de convertirse en un superhéroe, ¿cuál sería?

Iron man (hombre de hierro)

¿Hay lugar en su vida para accidentes? ¿O tiene usted todo bajo control?

Todo está bajo control, pero no es possible tenerlo todo en cuenta. Todo lo que planificamos siempre anda o más lentamente o, de repente, más rápidamente.

¿Su ciudad favorita en el planeta?

Me gustan mucho nuevos lugares. Cuando voy de vacaciones, siempre voy a un nuevo país.

¿Utiliza las redes sociales? ¿ Con qué frecuencia, es una cosa útil?

Sí, tengo cuentas personales en diferentes redes sociales, pero no las mantengo prácticamente. En Facebook hay una página de FA en los www.facebook.com/fieroanimals.

No se actualiza con frecuencia, pero estamos preparando un buen montón de material.

¿En qué dirección planifican ustedes desarrollarse? Diganos de sus planes.

Tenemos muchos planes. Tenemos un gran deseo de desarrollarnos. La dirección principal seguirá siendo la misma –la postproducción de impresiones publicitarias.

Y, por último, se disputan mucho ¿qué tipo de M&M's es más saboro: amarillo o rojo?

Rojo

Gracias, y por último diga algo a miles de personas que van a leer su entrevista.

Gracias. Me gustaría desear a todos la persistencia en el negocio seleccionado, pero no se olviden del resto.
You can offer yours questions in comments for the next episodes of our interviews.

Como começou a sua carreira como designer técnico (adiante "designer")? Quando você começou a se interessar por design e impressões publicitárias em geral?

Eu tenho estado sempre interessado na ilustração, sempre gostei de desenhar: eu desenhava muito e terrivelmente, mas isso não me incomodava em nada. Em seguida fiz uns experimentos com o Photoshop e 3D, mas quando vi impressões publicitárias de estúdios da do mundo ocidental – tive a certeza que queria fazer aquilo mesmo.

Tudo começou muito rapidamente e, de alguma maneira, inesperadamente. Eu trabalhava muito e com muito entusiasmo com retoques, tentava combinar fotos, modelar no 3D, inventando vários enredos divertidos e os colocando na Internete. A técnica era fraca naquele momento, mas este tipo de trabalho ficou de repente muito popular.

E de repente recebi logo vários pedidos de colaboração: de uma banda, de uma revista e de várias agências de publicidade.

Tudo isso aconteceu em um período muito curto de tempo, portanto todo o esforço não foi em vão. Eu era uma pessoa que fazia muitas imagens divertidas pelo prazer próprio, mas um dia muitas outras pessoas as acharam interessantes e eles estavam dispostas a pagar por elas. Tudo isso aconteceu há 7 anos em 2006.

Em 2008 eu abri o estúdio Fiero Animals.

No mundo ocidental existiam estúdios de pós-produção, especializados somente em impressões, mas na Rússia não havia nada disso. Pelo menos, depois de ter trabalhado durante dois anos e meio como ilustrador freelance, eu vi empresas de pós-produção que contratavam vários especialistas para um projeto, havia equipes para postar vídeos, mas não havia trabalho sistematizado com impressões.

Qual é a missão da equipe do "Fiero Animals" (adiante FA)? Que tipo de filosofia que vocês praticam no vosso negócio?

Para nós, o resultado e o aumento da qualidade do nosso trabalho são muito importantes, mas ao mesmo tempo, temos que ter em conta as realidades do nosso mercado com seus prazos complicados e o ritmo do trabalho. Com o tempo, as exigências para imagens estão aumentando, pois agora todos têm acesso a filmes de ótima qualidade e impressões de maiores estúdios ocidentais de pós-produção.

O consumidor está exigente, mas o número de profissionais que possam implementar projetos complexos é de longe insuficiente.

Um exemplo muito simples com o nosso estúdio: lançamos o site há 5 anos e desde então ele não foi atualização nem uma única vez. Sem behance, sem facebook ou quaisquer outras tentativas de promoção. O que você acha que aconteceu? Temos tido 5 anos de uma enorme quantidade de projetos muito interessantes e a quantidade está crescendo a cada ano. O novo site está pronto há um ano, mas naquele momento nós simplesmente decidimos não lançá-lo.

Durante todo esse tempo criou-se uma espécie de filosofia: nunca quisemos ser um "intermediário de produção", ou seja, arranjar muitos projetos e depois procurar freelancers para realizá-los. Tudo é feito basicamente dentro da equipe, por pessoas de confiança. Isso impõe certas restrições sobre o número de projetos, mas não permite criar "lixo", mesmo com uma carga de trabalho significativa.

Conte-nos sobre a sua equipe, quantas pessoas estão envolvidas na produção? Trabalham remotamente ou tem algum lugar fixo? Quem são as pessoas-chave na equipe?

As cidades são: Moscou, São Petersburgo (escritório), Lviv e Odessa. Ao longo dos anos temos construído um excelente sistema de trabalho à distância e depois adicionamos um escritório. Esta combinação funciona bem. O Fiero Animals tem 7 colaboradores.

Eugeny Sidelnikov - meu sócio e diretor de arte no estúdio, ele fez uma enorme contribuição para o desenvolvimento do FA.

Ivan Smirnov é retocador

Sergei Klesov é modelador-visualizador no 3D, retocador

Aleksei Soroka é responsável por matte painting e visualizador

Sergei Pereskokov é retocador, responsável por matte painting, visualizador

Dmitry Ten é modelador-visualizador no 3D, retocador

Eu trabalho como diretor de arte

Esta separação de funções é bastante ampla: por exemplo, o retocador não é aquele que apenas retira acne da imagem, mas sim é retocador criativo, ou seja, uma pessoa que trabalha com estoques, fazendo combinações complexas dessas imagens.

Até que ponto você é escrupuloso na escolha de projetos? Que percentagem de pedidos por mês, em média, você rejeita dizendo que "não está interessado" (isto é, a causa da recusa não está relacionada com questões financeiras ou prazos exigidos)?

"Não estou interessado" é uma frase pouco clara na recusa de um projeto, estamos interessados em projetos publicitários mesmo os mais simples, mas com soluções fora de comum ou soluções boas e criativas, ou em projetos onde se aplicam nossas ideias para realizá-los. A percentagem de recusa por falta de interesse é insignificante, a maioria das recusas está mesmo relacionada com os prazos, orçamento, ou pedidos de projetos fora da competência do estúdio.

Quem ou o que mais influenciou seu trabalho?

Fui influenciado por trabalhos de estúdios ocidentais de retoque e pela leitura de short-lists dos principais festivais de publicidade durante vários anos. Foi um trabalho longo, mas emocionante. Gostaria de mencionar muitos artistas contemporâneos, que vi em vários sites sobre o CG. Sempre gostei de assistir filmes.

Impressões publicitárias estão gerando renda suficiente? Você está satisfeito com o desenvolvimento deste mercado e com o seu estado atual?

Nosso trabalho é um trabalho de muitas horas diárias, com prazos rígidos, etc. Antes tinha que sacrificar feriados e o tempo com a família, mas uma renda decente é uma recompensa merecida se o trabalho é duro.

A qualidade do mercado de trabalho na publicidade está ficando melhor. Ainda assim muitas vezes nos deparamos com sumários vagos ou prazos muito curtos, mas, em geral, estamos satisfeitos com o estado do mercado.

Existem limites do permitido na sua criatividade como uma auto-censura interna?

Não há um limite definido, nunca tinha que me atormentar pelo trabalho feito. Quanto a impressões publicitárias, nunca foi colocada tal questão em nossa frente, porque geralmente tudo está dentro do normal.

Mas se você está falando da censura em termos de qualidade do trabalho, às vezes temos que recuar, ficando com o direito de não publicar esse trabalho em nosso portefólio.

Qual dos seus trabalhos você mais gosta e por quê?

Eu gosto de muitos nossos trabalhos. Nós fizemos muitos ótimos projetos que ainda não foram publicados. Escolher um é difícil ... bem, este "Crocante", por exemplo. Fizemo-lo há muito tempo atrás, mas é um trabalho positivo.

Como você avalia o nível de design, em geral, no seu país?

Agora o nível de design na Rússia é bastante bom, quando comparado com o que era há 5 anos. Surgiu uma grande quantidade de profissionais fortes em diversas áreas, o nosso portefólio de fotógrafos, designers, ilustradores, estúdios e agências se tornou muito mais interessante. No entanto, se você está vendo um trabalho maravilhoso, em 90% dos casos você irá encontrar nos créditos o nome de especialista ou de produção estrangeiros. Mas tenho certeza de que a situação está mudando e nós estamos vendo mais excelentes projetos feitos em nosso país.

Qual é a realização pessoal e profissional de que você mais se orgulha?

O estúdio FA, nossa equipe e excelentes projetos que estamos trabalhando. A realização pessoal são nossas lindas famílias que aturam nossa atitude, por vezes "maníaca" , perante o trabalho e nos apoiam em tudo.

Se não fossem impressões publicitárias, o que vocês fariam com vossa vida?

Seríamos jardineiros. Trabalhar com a beleza ao ar livre é legal. Mas em qualquer caso, o trabalho teria algum lado criativo.

Você pode fazer um sumário de seu dia de trabalho típico?

Café + e-mail, depois discutimos os projetos, verificamos os prazos, vemos que demonstrações tem hoje cada um, o que ele ainda tem que terminar para enviar o projeto. Em seguida, todos trabalham independentemente em seu projeto ou parte do projeto, vemos e discutimos novamente.

O dia de trabalho termina às 19 horas e depois todos têm planos próprios como passar tempo com as esposas, filhos, assistir filmes. Às vezes, no final da tarde falo com Eugeny para discutir rápido o trabalho para o dia seguinte.

Qual é a sua opinião sobre álcool e outros estimulantes no trabalho criativo e fora dele?

Negativa. Trabalhar assim deve ter sido muito lento e difícil.

Como prefere descansar do trabalho que tanto gosta?

Filmes, sair com amigos, viagens, etc.: resumindo, é preciso mudar de ambiente e procurar novas experiências. Por exemplo, Sergey Pereskokov toca na bateria em uma banda.

3 coisas favoritas (materiais), sem as quais seria difícil aguentar o dia?

Computador, telefone, almoço :)

Pepsi ou Coca Cola?

Os dois, depende do dia.

Você tem uma preferência em roupas? Sua coisa favorita no armário?

A camiseta Fiero Animals é simplesmente uma obra-prima.

Além disso, prefiro toda a roupa confortável.

Com que cliente você gostaria de trabalhar? (Marca)

Temos uma lista grande de marcas para as quais trabalhamos. Acho que gostaria de trabalhar com todas das 100 marcas mais caras. Para mim pessoalmente, seria ótimo trabalhar com a Disney.

Como e onde você se vê daqui a 5 anos?

Provavelmente, eu vou fazer o mesmo - trabalhar com impressões como ilustrador e diretor de arte do estúdio Fiero Animals. Estou convencido de que não se deve ser tentar fazer abranger tudo. Na minha opinião, acontece frequentemente que um bom fotógrafo, ao invés de se tornar o melhor fotógrafo, vai para a produção. Ou um ótimo designer decide se tornar diretor de arte, ou melhor ainda, diretor de arte criativa, ou um diretor de arte ou produtor vai para o lugar de realizador.

Em geral, com a indústria a se desenvolver as pessoas simplesmente estão procurando lugares mais prestigiosos ou com mais poder de decisão, em vez de se tornar o melhor na sua profissão.

Talvez elas tenham toda a razão. As pessoas estão tentando ocupar alguns nichos, que ainda abundam no nosso mercado em crescimento.

No que diz respeito a escola/universidade, foram útil para você? Qual é sua opinião sobre a educação clássica?

Muito boa opinião, porque é um ótimo período. Mas apenas no quarto ano eu me apercebi do que realmente queria fazer. Não tinha muito sucesso em linguística (meu curso), mas a experiência de trabalhar com uma quantidade grande de informação diferente foi muito útil para mim. Depois aprendi sozinho e tirei vários cursos.

Educação é muito importante, mas a coisa mais importante é ter interesse no que se está estudando.

Se você tivesse que mudar a profissão, o que você gostaria de ser?

É difícil dizer, acho que um fotógrafo.

Quais são os seus defeitos, se tem?

Acho que tenho muitos. É difícil destacar um em particular.

Se Hollywood decidiu fazer um filme sobre sua vida, quem você escolheria para o papel principal e de que gênero seria o filme?

É difícil de responder quem iria contratar o papel principal, mas o filme seria divertido e de aventura.

Se você tivesse três meses de tempo livre sem restrições financeiras, o que você faria?

O mais provável, faria algum grande projeto associado com o estúdio e nossa equipe. Por exemplo, uma viagem por vários países visitando estúdios e agências locais. É uma ótima experiência que pode ser combinada com boas férias e novos conhecimentos.

Muitas vezes faz entrevistas de emprego? É fácil para você dizer "não" a um candidato se ele não é a pessoa certa ou você tenta ser diplomático?

Recebemos muitos portefólio, mas é muito raro marcarmos uma entrevista. O importante é o nível de trabalho e a compreensão do processo como o trabalho é feito, desde o início até ao fim. Já tentamos o sistema de aprendizagem, mas funcionava muito mal, porque é preciso controlar constantemente como as coisas estão sendo feitas, e isso fica muito caro com a quantidade de trabalho que temos.

Alguma vez você já fez uma maratona de trabalho? Quantas horas você passou a fio em frente do computador?

Há 1-2 anos atrás passava muitas noites sem dormir, há 6-12 meses atrás ainda as tinha mas raramente. Agora nosso sistema de trabalho é construído de modo que noitadas de trabalho não acontecem. Prestamos muita atenção ao planejamento e gestão de tempo, para que nossas demonstrações não calhem no fim de semana e na segunda-feira. Se realmente precisamos fazer uma demonstração na segunda-feira, não a fazemos na parte da manhã para que se possa se sentar e terminar o trabalho durante o dia.

Veja a playlist do seu iPod / iPhone, que composição está lá agora pausada? Partilhe a sua descoberta musical mais recente.

Sempre ouço o rádio tocando no fundo.

Se você tiver que trabalhar sob a orientação de alguém que sabe menos que você?

O gerente não precisa saber mais, mas ele tem que ter visão estratégica e criar um ambiente de trabalho confortável.

Você acredita em "talento"? O que significa "talento" para você?

Talento é um interesse muito forte no trabalho, quando você pode fazer o mesmo trabalho durante vários anos e gostar mais e mais dele.

Você lê livros? Qual foi o último livro que você leu?

Eu leio muito e geralmente dois livros ao mesmo tempo: um de ficção e outro especializado. Destes últimos, gostei do livro Tom DeMarco "The Deadline : A Novel About Project Management". Um excelente livro, fácil e divertido de ler. Fiquei muito impressionado também com o "O Velho e o Mar" de Hemingway.

A verdade é que no instituto tinha que ler muitos clássicos estrangeiros, mas como me podiam interessar clássicos estrangeiros quando tinha 20 anos? Na melhor das hipóteses, os livros foram lidos por alto, ou então eu apenas lia um resumo do livro para passar no exame.

Mas agora eu estou curioso e até contente de que não li os livros, porque agora tenho uma enorme escolha de livros para ler.

Imagine que você pudesse mudar uma qualidade em todos os seres humanos no planeta Terra. O que você mudaria em nós?

Precisamos mudar muitas qualidades de uma vez só ou deixar tudo como está.

O seu trabalho e obras criativas são frequentemente criticadas? Qual é sua atitude perante à crítica?

Nem tanto, especialmente considerando o fato de que não tinhamos exibido nossas obras durante três anos. Os comentários atuais são geralmente positivos.

Não me preocupa muito a crítica. Eu não acredito que a crítica seja capaz de estimular alguém ou ajudar em alguma coisa. Mas é sempre interessante obter dicas do especialista da mesma área, cujo trabalho eu conheço.

Comentário ou opinião sobre seu trabalho do qual que você se lembra mais? De quem foi esse comentário?

Boas críticas são sempre agradáveis, as más podem ser às vezes úteis, mas não consigo destacar nada em particular.

O que aconteceu de significativo para você em seu país durante os últimos 10-15 anos?

É uma pergunta difícil, porque em nosso país sempre está acontecendo algo importante.

Se lhe fosse dada uma chance de se tornar um super-herói, qual deles você seria?

O Iron-man

Que parte da sua vida é feita de coisas inesperadas? Ou você tem tudo sob controle?

Tudo está sob controle, mas apenas nunca se pode ter tudo em conta. O planejado sempre se realiza mais devagar ou mais rápido do que esperado.

Sua cidade/local favorito no planeta Terra?

Adoro novos lugares. Quando vou de férias, sempre visito um novo país.

Você usa as redes sociais? Com qual frequência, até que ponto são úteis para você?

Sim, eu tenho contas pessoais em várias redes sociais, mas eu praticamente não as atualizo. No Facebook o FA tem uma página no link www.facebook.com/fieroanimals

Por enquanto não está sendo frequentemente atualizada, mas estamos preparando muito material.

Quais são seus planos de futuro desenvolvimento profissional?

Temos muitos planos e um grande desejo de continuar a se desenvolver. A direção principal permanecerá a mesma: pós-produção de impressões publicitárias.

E, para terminar, existe uma grande polêmica sobre que tipo de M & M sabe melhor: amarelo ou vermelho?

Vermelho

Obrigado e diga alguma coisa a milhares de pessoas que vão ler sua entrevista.

Obrigado. Eu gostaria de desejar a todo mundo persistência no trabalho escolhido, mas não esqueçer de relaxar.
You can offer yours questions in comments for the next episodes of our interviews.